Two-Year Manhunt Led to Killing of Awlaki in Yemen
Site Intelligence Group/A.F.P. — Getty Images; WBTV, via Associated Press
STORIES FROM OUR ADVERTISERS
WASHINGTON —

Anwar al-Awlaki

did not leave much of a trail, frustrating the American and Yemeni intelligence officials pursuing him over the last two years.

They believed they finally had found him in a village in southern

Yemen

last year. Yemeni commandos, equipped with tanks and heavy weapons, surrounded the hamlet, but he slipped away, according to a Yemeni official. In May, his pursuers targeted him in a

drone attack

, but narrowly missed him and other members of his entourage as they drove across a desert.
RELATED COVERAGE
Killing of Awlaki Is Latest in Campaign Against Qaeda Leaders
Map of Countries Where Al Qaeda and Its Affiliates Operate
TimesCast | September 30, 2011
News Analysis: American Strike on American Target Revives Contentious Constitutional Issue
Samir Khan, Killed by Drone, Spun Out of the American Middle Class
Yemenis Say They Have Bigger Problems Than Al Qaeda
The search for Mr. Awlaki, the American-born cleric whose fiery sermons made him a larger-than-life figure in the shadowy world of jihad, finally ended on Friday. After several days of surveillance of Mr. Awlaki, armed drones operated by the

Central Intelligence Agency

took off from a new, secret American base in the Arabian Peninsula, crossed into northern Yemen and unleashed a barrage of Hellfire missiles at a car carrying him and other top operatives from

Al Qaeda

's branch in Yemen, including another American militant who had run the group's English-language Internet magazine.

Linda Spillers for The New York Times

The strike was the culmination of a desperate manhunt marked not only by near misses and dead ends, but also by a wrenching legal debate in Washington about the legality — and morality — of putting an American citizen on a list of top militants marked for death. It also represented the latest killing of a senior terrorist figure in an escalated campaign by the Obama administration.

"The death of Awlaki is a major blow to Al Qaeda's most active operational affiliate," President Obama said in remarks at a swearing-in ceremony for the new chairman of the Joint Chiefs of Staff, Gen. Martin E. Dempsey, outside Washington. Mr. Obama said the cleric had taken "the lead role in planning and directing the efforts to murder innocent Americans."

Mr. Obama also called Mr. Awlaki "the leader of external operations for

Al Qaeda in the Arabian Peninsula

" — the first time the United States has publicly used that description of him. American officials say he inspired militants around the world and helped plan a number of terrorist plots, including the December 2009 attempt to blow up a jetliner bound for Detroit.

The drone strike was the first C.I.A. strike in Yemen since 2002 — there have been others since then by the military's Special Operations forces — and was part of an effort by the spy agency to duplicate in Yemen the covert war the it has been running in Pakistan. Friday's operation was the first time the agency had carried out a deadly strike from a new base in the region. The agency began constructing the base this year, officials said, when it became apparent to intelligence and counterterrorism officials that the threat from Al Qaeda's affiliate in Yemen had eclipsed that coming from its core group of operatives hiding in Pakistan.
Op-Ed Contributor: A Just Act of War
American officials said that the missile strike also killed

Samir Khan

, an American citizen of Pakistani origin who was an editor of Inspire, Al Qaeda's English-language online magazine. Mr. Khan, who grew up in Queens and North Carolina, proclaimed in the magazine last year that he was "proud to be a traitor to America," and edited articles with titles like "Make a Bomb in the Kitchen of Your Mom."

United States officials said that Friday's strike may also have killed Ibrahim Hassan al-Asiri, a Saudi bomb maker responsible for the weapon carried by Umar Farouk Abdulmutallab, the so-called underwear bomber in the jetliner plot. He is also thought to have built the printer-cartridge bombs that, 10 months later, were intended to be put on cargo planes headed to the United States. Neither of those plots were successful.

A high-ranking Yemeni security official, speaking on condition of anonymity, said that Mr. Awlaki was killed while traveling between Marib and Jawf Provinces in northern Yemen — areas known for having a Qaeda presence and where there is very little central government control.

A tribal sheik from Jawf Province, Abdullah al-Jumaili, said he had seen the place where Mr. Awlaki was killed. Reached by phone in Jawf, Mr. Jumaili said that the car Mr. Awlaki and two or three companions had been traveling in was nearly destroyed, and that it might be difficult to recognize bodies. But he said he had also spoken to other tribesmen in the area and was "100 percent sure" that Mr. Awlaki had been killed.

There had been an intense debate among lawyers in the months before the Obama administration decided to put Mr. Awlaki on a target list in early 2010, and officials said that Mr. Khan was never on the list. The decision to make Mr. Awlaki a priority to be sought and killed was

controversial, given his American citizenship

. The American Civil Liberties Union, which fought unsuccessfully in the American court system to challenge the decision to target Mr. Awlaki, condemned the killing.

Mr. Awlaki's death comes in the midst of a deepening political crisis in Yemen, the Arab world's poorest country, where President Ali Abdullah Saleh has been resisting repeated calls to relinquish power. Mr. Saleh has argued that he is essential to the American efforts to battle Al Qaeda in Yemen, but American officials said there was no connection between Mr. Saleh's abrupt return this week from Saudi Arabia, where he had been recovering from injuries sustained in an assassination attempt, and the timing of Friday's airstrikes.

Born in New Mexico to Yemeni parents, Mr. Awlaki, 40, began preaching in mosques while a college student in the United States. During that time, as a preacher in San Diego, he met two of the Sept. 11, 2001, attackers. He returned to Yemen in 2004 and his English-language sermons became ever more stridently anti-American.

American counterterrorism officials said his Internet lectures and sermons inspired would-be militants and led to more than a dozen terrorist investigations in the United States, Britain and Canada. Maj.

Nidal Malik Hasan

, who is accused of killing 13 people in a shooting rampage at Fort Hood in Texas in 2009, had exchanged e-mails with Mr. Awlaki before the shootings.

Faisal Shahzad

, a Pakistani-American who tried to set off a car bomb in Times Square in May 2010, cited Mr. Awlaki as an inspiration.

Many ordinary Yemenis — schooled in the cynicism of Yemeni politics — believe that their government could have killed or even captured Mr. Awlaki at any time, and chose to do so only now for political reasons.

But in fact, the Yemeni security services, many trained by American Special Forces soldiers, appear to have pursued Mr. Awlaki for almost two years in a hunt that was often hindered by the shifting allegiances of Yemen's tribes and the deep unpopularity of Mr. Saleh's government.
RECENT COMMENTS
jr007
mika
confusedfella
In 2009 and 2010, Mr. Awlaki seems to have been mostly in the southern heartland of his own powerful tribe, the Awaliq, where killing him would have been politically costly for the government, and capturing him nearly impossible. The area where Mr. Awlaki was finally killed, in the remote north, did not afford him the same tribal protection. There are also many tribal leaders in the far north who receive stipends from Saudi Arabia — the terrorist group's chief target — and who would therefore have had more motive to assist in killing him.

The hunt for Mr. Awlaki has involved some close calls, including the failed American drone strike in May, and the previously unreported operation in the Yemeni village. Yemen's elite counterterrorism commandos, backed by weapons from Yemen's regular armed forces, formed a ring around the town as commanders began negotiating with local leaders to hand Mr. Awlaki over, said one member of the unit.

"We stayed a whole week, but the villagers were supporting him," said the counterterrorism officer, who is not authorized to speak on the record. "The local people began firing on us, and we fired back, and while it was happening, they helped him to escape."

Yemen's political crisis has seriously hampered counterterrorism efforts, and may have slowed down the hunt for Mr. Awlaki. In May and June, armed jihadists overran two towns in southern Yemen, beating back the army brigades in the area and penning one of them behind the walls of its base for two months.

The elite counterterrorism unit was not deployed until August, because of fears of civil war in the capital. Eventually, the unit regained control of the city of Zinjibar, but the counterterrorism officer, who took part in the fight, said the militant forces appeared to have expanded during Yemen's crisis, with recruits from Somalia and several Arab countries.

Fresh information about Mr. Awlaki's location surfaced about three weeks ago, allowing the C.I.A. to track him in earnest, waiting for an opportunity to strike with minimal risks to civilians, American officials said.

A senior American military official who monitors Yemen closely said Mr. Awlaki's death would send an important message to the surviving leaders and foot soldiers in the Qaeda affiliate. "It's critically important," the senior official said. "It sets a sense of doom for the rest of them. Getting Awlaki, given his tight operational security, increases the sense of fear. It's hard for them to attack when they're trying to protect their own back side."

But some Islamist figures said Mr. Awlaki's status could be elevated to that of a martyr. Anjem Choudhry, an Islamic scholar in London, said, "The death of Sheik Anwar al-Awlaki will merely motivate the Muslim youth to struggle harder against the enemies of Islam and Muslims."

He added, "I would say his death has made him more popular."
____________________________________
Obituary: Anwar al-Awlaki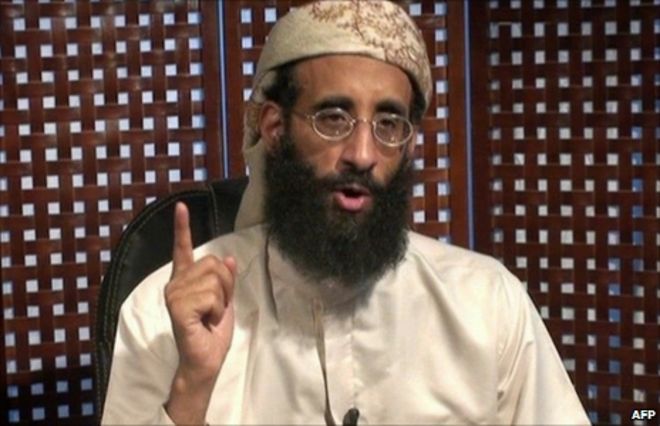 Anwar al-Awlaki, a radical American Muslim cleric of Yemeni descent, was linked to a series of attacks and plots across the world - from 11 September 2001 to the shootings at Fort Hood in November 2009.
After surviving several attempts on his life, he was killed in a US drone strike in western Yemen on 30 September 2011.
In recent years, Awlaki's overt endorsement of violence as a religious duty in his sermons and on the internet is believed to have inspired new recruits to Islamist militancy.
9/11 Hijackers
Awlaki was born in 1971 in the southern US state of New Mexico, where his father, Nasser, a future Yemeni agriculture minister and university president, was studying agricultural economics.
He lived in the US until the age of seven, when his family returned to Yemen.
After studying Islam during his teenage years, Awlaki returned to the US to gain a degree in civil engineering from Colorado State University and a master's in education at San Diego State.
In 1994, he married a cousin from Yemen and took a part-time job as imam at the Denver Islamic Society.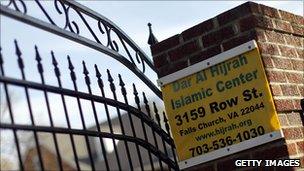 Awlaki later became imam at a mosque in Fort Collins, Colorado, before returning to San Diego in 1996, where he took charge of the city's Masjid Ar-Ribat al-Islami mosque.
During his four years there, his sermons were attended by two future 9/11 hijackers, Khalid al-Midhar and Nawaf al-Hazmi. The two men were also seen attending long meetings with the cleric.
In early 2001, he moved to the Dar al-Hijrah mosque in Falls Church, Virginia, which was attended by Hazmi and a third hijacker, Hani Hanjour.
It also emerged that in 1998 and 1999, while serving as vice-president of an Islamic charity that the FBI described as "a front organisation to funnel money to terrorists", Awlaki was visited by Ziyad Khaleel, an al-Qaeda operative, and an associate of Sheikh Omar Abdel Rahman, who was serving a life sentence for plotting to blow up landmarks in New York.
Prison
In 2002, he left the US for the UK, where he spent several months giving a series of popular lectures to Muslim youths.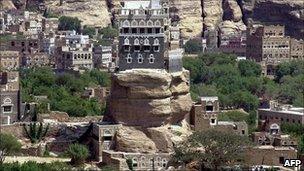 Unable to support himself, Awlaki returned to Yemen in early 2004, and moved to his ancestral village in the southern province of Shabwa with his wife and children.
He soon became a lecturer at al-Iman University, a Sunni religious school in Sanaa headed by Abdul-Majid al-Zindani, a cleric who has been designated a terrorist by both the US and UN for his suspected links with al-Qaeda.
In 2004, Zindani was listed as a "specially designated global terrorist" by the US Treasury Department and the UN, but Yemen took no steps to freeze his assets.
In August 2006, Awlaki was detained by the Yemeni authorities, reportedly on charges relating to a plot to kidnap a US military attache.
He said he was interviewed by FBI agents during his subsequent 18 months in prison, and believed the US had asked the Yemeni authorities to prolong his detention.
Following his release, Awlaki's message seemed overtly supportive of violence, railing against the US-led invasions of Afghanistan and Iraq, and the killing of Muslims in covert operations in Pakistan and Yemen.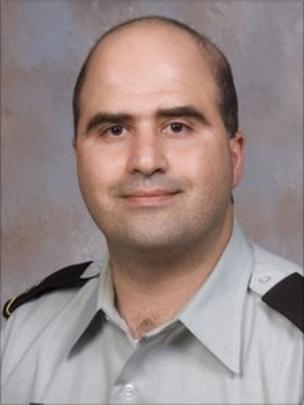 He incited violence in a number of texts via his website, his Facebook page and many booklets and CDs, including one called "44 Ways to Support Jihad".
Such materials have been found in the possession of several convicted English-speaking militants in Canada, the UK and US.
In July 2009, the cleric stated in a blog post that a Muslim soldier who fought other Muslims was a "heartless beast, bent on evil, who sells his religion for a few dollars". Following the shootings, Awlaki called Maj Hasan a hero.
"My support to the operation was because the operation brother Nidal carried out was a courageous one," he told al-Jazeera.
'Global terrorist'
The 23-year-old was at the same time receiving his final training and indoctrination from members of al-Qaeda in the Arabian Peninsula, ahead of his alleged suicide mission, they said.
Awlaki later acknowledged that he had "communications" with the Nigerian in late 2009, but denied any role in the alleged attack.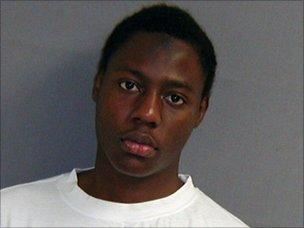 In May 2010, Faisal Shahzad, the US citizen of Pakistani origin who has admitted attempting to bomb New York's Times Square, said he had been inspired by the violent rhetoric of Awlaki, according to US officials.
And in late October of that year, he was the only man named by the head of the UK's Secret Intelligence Service (SIS) when he outlined major threats to the country in his first public speech.
Only days later, two suspect packages containing bombs and addressed to synagogues in the US city of Chicago were sent from Yemen. They were carried by plane and intercepted in the UK and Dubai.
US officials blamed al-Qaeda in the Arabian Peninsula for the failed attack and again linked the plot to Awlaki.
According to prosecutors, Awlaki and his cousin, Osman, were in contact with the alleged attacker, Hisham Assem. Yemeni officials had until then said they had no legal justification to detain Awlaki.
At the time, he was thought to be hiding in the mountainous governorates of Shabwa and Marib, under the protection of the large and powerful Awalik tribe, to which he belongs.
___________________________________________________________________
Sharif Mobley had acknowledged contact with Anwar al-Awlaki. The Mobley family claims the contact was for spiritual guidance in further studies of Islam.
When queried by Fox News, the FBI denied having evidence connecting al-Awlaki and the September 11 attacks: "The FBI cautions against drawing conclusions from redacted FOIA documents. The FBI and investigating bodies have not found evidence connecting Anwar al-Awlaki and the attack on September 11, 2001. The document referenced does not link Anwar al-Awlaki with any purchase of airline tickets for the hijackers."
44 Ways to Support Jihad: Essay (January 2009).[255] In it, al-Awlaki states that "The hatred of kuffar is a central element of our military creed" and that all Muslims are obligated to participate in jihad, either by committing the acts themselves or supporting others who do so. Says all Muslims must remain physically fit so as to be prepared for conflict.[70][120] According to US officials, considered a key text for al-Qaeda members.[256]
Al-Awlaki wrote for Jihad Recollections, an English language online publication published by Al-Fursan Media.[257]
Allah is Preparing Us for Victory – short book (2009).[258]
Lectures on the book Constants on the Path of Jihad by Yusef al-Ayeri—concerns leaderless jihad.[70]
In 2009, the UK government found 1,910 of his videos had been posted to YouTube. One of them had been viewed 164,420 times.[259]
The Battle of Hearts and Minds
The Dust Will Never Settle Down
Dreams & Interpretations
The Hereafter—16 CDs—Al Basheer Productions[9]
Life of Muhammad: Makkan Period—16 CDs—Al Basheer Productions
Life of Muhammad: Medinan Period—Lecture in 2 Parts—18 CDs—Al Basheer Productions
Lives of the Prophets (AS)—16 CDs—Al Basheer Productions
Abu Bakr as-Siddiq (RA): His Life & Times—15 CDs—Al Basheer Productions
Umar ibn al-Khattāb (RA): His Life & Times—18 CDs—Al Basheer Productions
25 Promises from Allah to the Believer—2 CDs—Noor Productions
Companions of the Ditch & Lessons from the Life of Musa (AS)—2 CDs—Noor Productions
Remembrance of Allah & the Greatest Ayah—2 CDs—Noor Productions
Stories from Hadith—4 CDs—Center for Islamic Information and Education ("CIIE")
Hellfire & The Day of Judgment—CD—CIIE
Quest for Truth: The Story of Salman Al-Farsi (RA)—CD—CIIE
Trials & Lessons for Muslim Minorities—CD—CIIE
Young Ayesha (RA) & Mothers of the Believers (RA)—CD—CIIE
Understanding the Quran—CD—CIIE
Lessons from the Companions (RA) Living as a Minority'—CD—CIIE
Virtues of the Sahabah—video lecture series promoted by the al-Wasatiyyah Foundation
____________________________________________________________________________